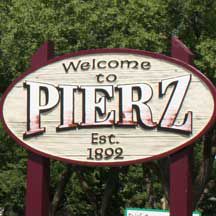 Terry Lehrke, Jul 14, 2018

"I would love to see what I do every day benefit my home community and the people I grew up with and my family," Jackie Scholl Johnson told the Pierz City Council, Monday.
Johnson, the executive director for Big Brothers Big Sisters (BB/BS) of Central Minnesota, was born and raised in the Pierz area and asked the Council for its support in bringing the program to her hometown.

Pierz School District Supt. George Weber agreed to signing a memorandum of understanding between the school district and the organization, beginning with 25 elementary students.
BB/BS matches children known as "Littles" with mentors known as "Bigs." Ten of the "Bigs" would be high school students, who could walk over to the elementary school during the school day, as it will be set up at this point as an in-school activity. Johnson said the organization has had a lot of success with high school Bigs when they can walk to the elementary school, such as in Foley.
"I think we could really model Pierz after Foley and have great success like they are having," she said.
The Littles and Bigs meet on a regular basis, weekly or several times a month, whatever works for the mentors, as long as it's consistent, Johnson said.
In reading the city's comprehensive plan, Johnson said BB/BS is aimed at many items the city set as goals.
"In your comprehensive plan, you nailed the very things we do," she said. "You talked about the school being a strong selling point for the community, which it is.
"Pierz shows up — Pierz shows up when someone is in trouble, when Pierz goes to state in sports, Pierz shows up," she said. "So, I have every reason to believe Pierz is going to show up and bring forth good, strong mentors for our kids."
The Pierz comprehensive plan also talks about improving quality of life.
"Big Brothers Big Sisters improves quality of life for the kids or 'Littles' — they're the ones that are needing that support — but it also improves the Big's life," Johnson said. "We hear that all the time that the volunteers get as much out of it as the Littles do."
BB/BS surveys show the high school Bigs are able to tap into BB/BS resources, such as scholarships, as well as get a lot out of the program, Johnson said.
The high school Bigs tell BB/BS personnel that being in that position makes them think about their personal choices.
"We hear from high school Bigs, 'I think about what my Little would think of me if I did that, or if I did that and got caught, I'd get kicked out of the program," she said. "They have to be a good role model for the kids."
Another part of the city's comprehensive plan expresses a desire to work with local schools and to partner with organizations to provide structured, safe activities for the community's young people, that develop both bodies and minds and work together to support constructive youth activities ... and promote opportunities for residents.
"This fits right into what you're hoping to do in the community," Johnson said.
The memorandum with the school district will be signed Wednesday, July 18.
While the school district's role is more supportive than managerial, Supt. Weber said there a significant need for children across the country to get positive adult attention and mentorship.
"Often children are living in homes where parents work odd hours and many hours just to make it, or in many cases there is only one parent," Weber said.

"We absolutely believe it is very valuable and supported both in our schools and in our communities," Weber said. "Sometimes these Big Brothers and Sisters can answer questions and provide guidance that no one else can give, because sometimes there is more safety in asking them than other authority figures. Sometimes children need another friend they can count on. There really is no limit to the value this program provides."
The kind of support Johnson asked of the Pierz City Council was more personal than official.
"You're all individuals — you know a lot of people," she said, asking the Council to talk to people in the community to encourage them to become mentors.
"Finding the Littles is never an issue — it's finding the Bigs," she said.
Children who may benefit range from those from single parent families through death or divorce, to those who have suffered a trauma in their life, having a very sick sibling and more.
"Studies show that one or two caring adults who can mentor can absolutely change a child's life," she said.
There is no age limit for a mentor. "We've had Bigs in their 70s," said Johnson. "If you're 7, you don't know the difference between some who's 40 and someone who's 75."
Council Member Stephanie Fyten told of a friend who was a mentor as a young woman, and maintains that relationship 35 years later.
She said it was amazing to watch the child's confidence grow, eventually helping her get out of a bad situation.
"Any time we can help improve the lives of our youth, it's a great thing for our community and the country as a whole," Mayor Toby Egan said.
Anyone interested in becoming a mentor, or who would like more information, may contact Rachel at the BB/BS office (320) 258-4537 or email Rjohnson@bbbscentralmn.org.